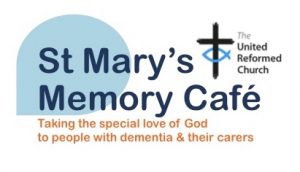 St Mary's Memory Café was established in February 2014.The Café opens the first Thursday of the month at the church in Commercial Street Morley opposite the Library. The café so far has proved popular, and has supported many local people. The St Mary's memory café has a warm welcome for people with memory problems and or their carers to come and chat with others in similar situations taking part in activities and discussion. Help is available to find out more about dementia and support. available. Recent activities have included a visit from the Marks and Spencer Archive., singing and local reminiscence. The local Alzheimer's support worker is available at the sessions for confidential advice.
Café Dates 2020
1.30pm
5th March Music performance and singing Churwell Community choir
2nd April Celebrating Easter
7th May 75 th Anniversary VE Day
4th June Curator Armley Industrial Museum
2nd July Afternoon Tea
August No Café
Thursday 3rd September
Thursday 1st October
Thursday 5th November
Thursday 3rd December
Further information call
Heather 0777 1572 850
If you are interested please come along on the first Thursday of the month
Or call or text Heather on 0777 157 2850 for more information.